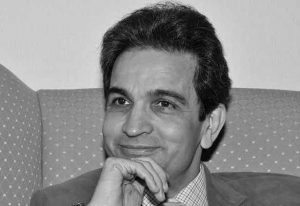 Mr. Shailesh Vadodaria is one of the UK's leading cosmetic surgeons who specialises in dimple creation surgery. He gives lectures in national and international aesthetic plastic surgery conferences on dimple creation. He has conducted 'master class' on dimple creation and demonstrated the technique in advanced facial aesthetic surgery meetings. He published a chapter on his personal perspectives of dimple creation in a German plastic surgery text book. He is a British trained Consultant Plastic Surgeon who is on Specialist Register of General Medical Council. He has also demonstrated the dimple creation procedure on Channel 4 in the documentary entitled 'embarrassing bodies'.
Presentations to Learned Societies related to facial dimple creation;
Fact,fiction and fashion of facial dimple creation FACE meeting at the Royal College of surgeons and physicians, London 2011, S.Vadodaria.
Fact,fiction and fashion of facial dimple creation Face,Nose,Eyes advanced aesthetic surgery workshop 2013, 2014, 2015 and 2019
Fact,fiction and fashion of facial dimple creation, FACE aesthetic surgery meeting 2013,London,S.Vadodaria, V.Tambewkar
Fact,fiction and fashion of facial dimple creation, International society of aesthetic plastic surgery , Dubai February,2014, S.Vadodaria, V.Tambewkar
Fact,fiction and fashion of facial dimple creation Face,Nose,Eyes advanced aesthetic surgery workshop, University of Warwick , Coventry, London 2012 (on teaching faculty)S.Vadodaria, V.Tambewkar
6. A new technique for cheek dimple creation under local anaesthetic, a critical appraisal of five years of personal experience. ISAPS meeting September 2014 Rio de Janiero, Brazil.
Master Class on Dimple creation Surgery All India Plastic Surgery Conference , Mumbai, India, December,2015
Title: Surgical Creation of Cheek dimples: A personal perspective
Authors: Vadodaria S., Tambwekar V., Trivedi D
He completed his medical graduation in India and was awarded the qualification of M.B; B.S with a Gold Medal. Mr. Vadodaria achieved his Masters degree in General Surgery (M.S) and Plastic Surgery (M.Ch) following 6 years of training in these respective specialties. He was also awarded a prize during his training for the best paper presentation by the National Association of All India Plastic Surgeons and was also awarded an International Travelling Fellowship and J.N.Tata Scholarship for advanced training in Sweden.
Mr. Vadodaria has had extensive training in plastic surgery in United Kingdom. He completed his higher surgical training in plastic surgery in units accredited by the British Association of Plastic Surgeons and awarded FRCS (Plastic Surgery). He is on the specialist register of General Medical Council and has been since 2004. This certifies that the Plastic Surgeon has demonstrated the skills and knowledge to perform cosmetic and plastic surgical procedures which he or she learned in Plastic Surgery training.
He also had advanced cosmetic surgery training in Sweden, Germany and Belgium. Mr. Vadodaria has presented more than 100 papers in national and international plastic surgical congresses. He has been innovate in designing new instruments, simulators and advanced plastic surgical techniques, many of which have been published in industry reviewed plastic surgery journals. He is invited regularly to speak and train at International Plastic Surgery Meetings in Sweden, Germany and Spain.
While Mr. Vadodaria's qualifications and training attest to his knowledge, it is his surgical skill and his dedication to excellence and commitment to personalised, quality care that is the basis of his greatest recognition.
Mr. Vadodaria has worked as a Consultant Plastic Surgeon at the St. George's NHS Hospital, London and as an Honorary Lecturer in the division of Surgery at the Sheffield University. During that time he was involved in teaching the medical students and training the plastic surgery trainees. Mr. Vadodaria left the National Health Service in 2007 and established his own private practice in order to focus on his interest in Cosmetic Surgery.
He has specialised in body contouring procedures such as breast augmentation, breast reduction, breast lift, abdominal reduction, liposuction and the correction of male breast enlargement. Alongside those procedures and techniques he also specialises in facial plastic surgeries – face lift, eyelid and eye brow surgery, nose and ear correction.
Mr. Vadodaria is particularly noted for achieving a very natural appearance for his patients. In addition, by establishing a strong doctor – patient relationship with open channels of communication, Mr. Vadodaria feels he is able to fully appreciate a patient's goals and motivations, which are so critical to tailoring an appropriate treatment plan. In light of constantly evolving techniques, sophisticated new technology and exciting developments, Mr. Vadodaria regularly attends national and international conferences, where he participates in workshop with colleagues and other specialists in the field.
He recently appeared in the TV serial entitled 'Embarrassing bodies' in Channel 4 where he demonstrated the surgical procedure for correction of male breast. Mr. Vadodaria has also been invited to be interviewed on radio shows and specialises in providing well rounded information to the general public regarding liposuction procedures. Mr. Vadodaria was also to demonstrate liposuction surgery for an educational documentary produced by the international media agency – Reuters.